---
Fifty-Four Day Novena 8pm
You are invited to join together in prayer in the praying of a Fifty-Four Day Rosary Novena to ask the Lord to loosen the grip of COVID-19 in our country and throughout the world.  We pray also for the comfort of all those suffering and all those caring for the them.
We begin this evening – 8th January 2021 – at 8pm.  Please use the link above to join us.
---
Happy and Healthy

Covid-19

Free
New Year for 2021
and God Bless
---
Latest News
Tickets for Masses on Christmas Eve and Christmas Day
As you know every year there is a dramatic upsurge in attendance at Masses on Christmas Eve and Christmas Day which is problematic this year since government restrictions only allows for an maximum attendance of 50 at Masses.  In the light of this – and in an effort to keep you safe – it has been decided that we should increase the number of Christmas Masses celebrated:
Christmas Eve
Doneyloop: 4pm, 6pm & 8pm.
Castlefin: 5pm & 7pm.
Christmas Day
Castlefin: 9am & 11am.
Doneyloop: 10am & 12 noon.
Tickets will be issued for each of these Masses which will be allocated on a first come first served basis between 2pm and 3pm on Sunday 13th December in both St Columba's Church, Doneyloop and St Mary's Church, Castlefin.
In order to facilitate the efficient seating of the congregation at the various Christmas Masses our parish reps will also record the names of those to whom tickets have been allocated.  Without doubt tickets for some Masses at least will be snapped up fairly quickly so you may be offered a place at another of the scheduled Masses.
Even if all tickets are gone you might wish to leave your name and contact details with our reps in order to give us an idea of the level of demand for places.   This will be important because if we know many people are still seeking tickets we can explore the possibility of adding another Mass or Masses to the schedule.  Should that be the case we'll be able to contact you to offer you a place.
We regret very much that all this is necessary but since COVID-19 continues to be a serious problem we have had to find some way of limiting numbers.  Remember also that for the time being there is no obligation to attend Mass and also that you have the option of participating in all our Christmas Masses which will be live-streamed and can be accessed using the links on this parish website as well as on our YouTube channels (St Columba's Doneyloop, St Mary's Castlefinn) and our Facebook page (Parish of Urney and Castlefinn).  Finally, please keep an eye out on this website or the parish Facebook page for further updates.
---
Participate online by the links below:
St. Columba's Church, Doneyloop                              St. Mary's Church, Castlefin
Rev. Ciarán Hegarty CC                                                Rev. Oliver Crilly PIR

---
UNIVERSALIS DAILY MASS READINGS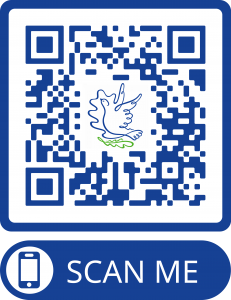 You can also print out the QR code (it says scan me) and put it in a handy place – on the fridge, beside your TV or computer. Just scan the QR code with your smart phone and it will bring you straight to the day's readings. To print, click the QR code image.
---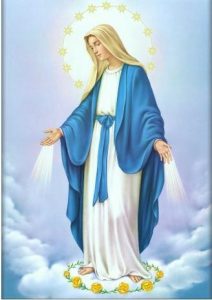 December 8: Immaculate Conception of the Blessed Virgin Mary—Solemnity
(A Holy Day of Obligation)
---
Impact of Government announcement
Thursday 24th of September
The decision that Donegal has been moved to Level 3 of the Living with COVID-19 plan will affect our the sacramental life of our parish churches in the following ways.
Masses without a congregation
From midnight on Friday September 25th all our Masses will move online. It's regrettable, of course but at least we have our webcams up and running so our Masses will be said at the usual times in both St Columba's and in St Mary's.
Funerals
From Monday 28th September up to 25 mourners can attend a funeral.
Weddings
Weddings may proceed, but with a limit of 25 guests for ceremony and reception (irrespective of venue).
For full details see
https://www.gov.ie/en/publication/f9a0c-donegal-is-at-level-3/?referrer=http://www.gov.ie/donegal/
That's how the Law stands at the moment. We'll let you know if any further stipulations are forthcoming from the diocese.
In the meantime let us continue to pray for a swift end to this virus.
Every blessing, peace and protection to you.
Fr Ciarán
Changes in this week's Mass schedule
It has been decided that the Mass at which the children from St Mary's NS, Castlefinn will receive their First Holy Communion will take place on Thursday evening – the 24th at 7.30pm.  Given the restriction on the number permitted to attend church services as it stands at the moment is 50 please be aware that this will replace the usual parish Mass.
Please pray for the happy repose of the souls Margaret Chambers RIP and Liam McLoone RIP.  Requiem Mass for Liam will take place at 10am in St Mary's Church on Friday 25th and for Margaret at 12 noon – also in St Mary's on the same day.  The usual parish Mass is therefore cancelled.
---
Link for today's Mass Castlefin
St. Mary's Church,
Rev. Oliver Crilly PIR
Link for today's Mass in Doneyloop
St. Columba's Church,
Rev. Ciarán Hegarty Adm.

Please Subscribe to the Parish YouTube Channels
for updates on when service starts
Parish Newsletter 23rd Aug 2020
---
For Mass times see Notices page
---
We are delighted to announce that Eucharistic Adoration recommences
In St Mary's Church on Tuesday 14th July 2020 beginning at 12 noon until 8pm.
for more information please click this link
---
We were locked down in March of this year and postponing all the events that were to take place in the church was a sad and difficult thing to do. Thankfully, we are now seeing a relaxation in many of the restrictions and have been able to begin to openup our churches again.  Closing down was one thing, opening them back up has been a bigger challenge.
We have had very clear guidance from both Church and State about the restrictions we are still bound by in order to maintain the safety of everyone who uses our churches.   As you know this guidance is subject to change and we are keeping avery close eye on this so we can make any further changes as soon as they arise.
In reopening the churches of our parish many people have been very generous of their time and skills.  We are very blessed in this community to have so many who were willing and happy to help with everything from, setting up and maintaining the tech needed to broadcast on the parish radio and the parish youTube, those who have helped with sacristan duties, Ministers of the Word and of the Eucharist, church caretakers, cleaners, stewards, ticket distributors, Facebook and website administrators and  those who very generously sponsored PPE for all Ministers of the Eucharist in the parish.
We simply could not have reopened our churches for public Masses without each and every one of you. Thank you.
All of us are well informed and made to feel safer due to the signage in both our churches as well and many thinks to Creative Signs for providing that.
Please keep a close eye on the Parish website and Facebook page as well as on the church notice-boards for information about upcoming events and sacraments which hopefully will be able to happen in the not too distant future.Important update 26th June 2020
Reintroduction of Masses with a congregation
In an earlier update – 24th June – it was stated that the reintroduction of Masses with a congregation involved good news and less than good news, the good news being that we are now permitted to gather at the altar to fulfil the Lord's command Do this in memory of me while the less than good news refers to the limit set on the numbers allowed to attend – at this stage 50 keeping a social distance of 2 metres.  The COVID-19 support groups in St Columba's and St Mary's have scrutinised the layout of both churches and worked out how many people can attend so that social distancing of 2 metres is possible.  It turns out then that Doneyloop can accommodate 36 people while Castlefinn can take 83.  Bear in mind that family groups can sit together so Doneyloop will accommodate 50 while Castlefinn is not permitted to take any more than 50.  If these numbers surprise or shock you do keep in mind that restrictions may be relaxed at any time meaning that many more will be able to attend.
Anyway, things being as they are at the time this is published, I'm sure you can see our dilemma – how do we decide who the 50 are who will go to Mass?  The easiest option would be to have no strategy and just invite people to turn up.  But clearly when the capacity of 50 has been reached we would be faced with the unenviable prospect of telling people they can't come in.  Now given that welcome and hospitality are values which lie at the very heart of Christianity this just seems unacceptable.  So we've decided to use another approach, namely, to use tickets for each Mass which will be issued – for Masses in the week ahead – between 5.30 and 7.30pm in the porches of both churches next Monday (29th June) and Wednesday (1st July) on a first-come first-served basis.
Now if it's first-come first-served, you may ask, 'isn't that just telling some people they're not welcome in advance rather than just before the Mass in question?'  And again we're at pains to point out that it will never be the case that people aren't welcome to Mass; it's just that we're observing the statutory requirements because we value your safety and we want you to be 100% confident that when you come to either of our churches you will be safe.  And besides if there are no tickets left for a particular Mass you will hopefully be able to secure a ticket for another one.
In an effort to get all this organised it has been agreed that the first public Mass in St Columba's will take place at 7.30pm on the First Friday – 3rd July – and in St Mary's at 7.30pm on Saturday 4th July.  So on Monday and Wednesday tickets will be issued for the Masses in the respective churches for the following week:
Doneyloop – 7.30pm Friday 3rd, 6.00pm Saturday 4th, 9.30am Sunday 5th, 7.30pm Tuesday 7th, 10.00am Wednesday 8th, 10.00am Thursday 9th, 7.30pm Friday 10th.
Castlefinn – 7.30pm Saturday 4th, 11.00am Sunday 5th, 10.00am Monday 6th, 10.00am Tuesday 7th, 10.00am Wednesday 8th, 7.30pm Thursday 9th, 10.00am Friday 10th.
The bottom line is that we are loathe to make anyone feel unwelcome or dissuade them from worship and are committed to doing what we can within the current restrictions to welcome you back home.  But while these restrictions are in place – and again these could change anytime – we have to come up with some way of handling this situation responsibly and sensitively.
Now a certain degree of flexibility would be desirable such as some people choosing to fulfil your Sunday obligation to go to Mass by going instead on a weekday.  And besides the Sunday obligation to attend Mass has not been reinstated so if you're uneasy about coming to the church at all even now then feel free to stay at home.  And you shouldn't feel left out because by this weekend – 27th/28th June – both churches should be live-streaming Masses on YouTube and this will continue for the foreseeable future.
This update is just to give you a general idea of how we intend to negotiate this return to public Masses.  Please keep an eye out for later updates which will fill you in on any further details such as how any change in the restrictions will change things.
Now a booking system is not ideal, we know, but the COVID-19 support team in the parish is looking at the situation with the old Chinese proverb in mind it's better to light a penny candle than to curse the darkness.  Until the 29th June we can't have any public Masses; after then, albeit in limited circumstances, we can.  Please God before long the restrictions will be relaxed and we'll no longer need have to bother with all this.  For the time being this strategy is the best we can come up with and do bear in mind that behind all of our deliberations and planning is our commitment to ensuring that you are confident to come to our churches because your safety is our priority.
Another important update 24th June 2020
This one is about changes in Mass times.
You may remember that just after Christmas Fr Crilly was unable to say Mass for some weeks and we are all delighted that he is – as he might say – ar fónamh again (fit and well).  This situation, however, did give Fr Hegarty the opportunity to get to know the people of Castlefinn a bit better.  The only fly in that ointment was that, because Masses in Doneyloop were scheduled just one hour before those in Castlefinn, he was just about on time for Mass in St Mary's and on one occasion about five minutes late.  As he said himself at the time, 'it's never great to have heard the seven o'clock news on the drive over to say the seven o'clock Mass'.   It became apparent then that some change to the parish Mass schedule was needed in order to give one priest enough time to cover both St Columba's and St Mary's and especially concerning the Sunday programme.  Since we're now engaged in 'putting the parish machine together again' after lockdown now seems as good a time as any to introduce these changes which will take effect from when we recommence the public celebration of Mass in the near future.
Concessions have been made on both sides of the parish in that whereas the Saturday evening Vigil remains at 6pm in Doneyloop, Castlefinn changes from 7 to 7.30pm.  Then on Sunday Mass in St Columba's will be at 9.30am not 10am – as it had been –while in St Mary's it will remain at 11am.  As regards the weekday programme morning Masses will be at 10am in both churches while evening Masses will be at 7.30pm.  Should one priest have to cover weekdays, one Mass will be said in the parish – split as equally as possible between Castlefinn and Doneyloop.  Details of any such changes will be announced at Masses and published on the parish website and FaceBook page as necessary.
And here's the timetable in its entirety.
St Columba's Doneyloop
St Mary's Castlefinn
Saturday
6.00pm (vigil)

7.30pm

(vigil)
Sunday
9.30am
11.00am
Monday
No Mass
10.00am
Tuesday
7.30pm
10.00am
Wednesday
10.00am
10.00am
Thursday
10.00am
7.30pm
Friday
7.30pm
10.00am
Important update 24th June 2020
As mentioned in the last update – 20th June – about the current work of the two parish COVID-19 support groups – St Columba's Doneyloop and St Mary's Castlefinn – preparations are ongoing so that we can begin having Masses with a congregation again.
It is our priority to keep you

safe

during your visits to our churches and therefore we will ensure that each of them will be cleaned after each Mass.  In addition stewards will be on duty at each Mass to help facilitate social distancing – keeping an eye on any queues, showing you to your seat, ensuring that a safe distance is maintained as people approach the altar to receive Holy Communion and as you leave the building.
Volunteers for both cleaning and stewarding are needed for St Mary's in Castlefinn.  If you're willing to help please contact Collette Carlin 0876707164.  Thank you so much in anticipation and please keep an eye out for further updates here – we anticipate many of them in the coming days.  Every blessing and protection.
Important update 20th June 2020
First the good news – as you will be aware due to the relaxation of the COVID-19 restrictions it will be possible from 29th June to resume Masses with a congregation in our parish churches.  But there's also less good news.  In order to minimize the risk of any future spread of this coronavirus the size of the congregation able to attend each Mass is very significantly limited.  Again, you will most likely be aware that the government announced on Friday 19th June  that only 50 will be permitted to attend.
We as a parish are expected to make each of our churches as safe as possible and we aim to do that to the very best of our ability.  Just to be clear your safety is our priority.  You will notice then certain changes in the churches such as pews being blocked and markers on those that are left open as well as markings on the floor.  You'll also see highly visible notices and hand sanitizer readily available.  When we finally gather for Mass you'll see that stewards will be on hand to assist you in getting to your place and helping to organise the queue for Holy Communion.  Thanks to the generosity of volunteers these preparations are well under way for both St Columba's and St Mary's.
One of the problem for which we are still trying to find a solution is that of how to limit the numbers who come to each Mass.  It goes without saying that it's highly regrettable that we have to do so but we have to adhere to government guidance and, as was stated above, your safety is our priority.  The bottom line is that a few solutions are under consideration but no decision has as yet been made.  When it has you will be made aware of it immediately.
So there's very definitely light at the end of the tunnel but for the meanwhile anyway there's still a bit of the tunnel to walk until we reach full daylight.  Can we just thank you all for your good will and graciousness since this crisis began.  In early March it was necessary to inform you – for some of you going against the custom of a lifetime – that you could no longer receive Holy Communion on the tongue.  And then very soon Masses were called off and so on until we were in almost total lock-down as a parish.  And yet you remained loyal and supportive and committed.  May God reward you for all of that.  And now the much hailed new normal is here and we're asking for patience and understanding as we negotiate various logistical problems in our efforts to get back to something like what should be normal – a Church with open doors welcoming anyone who wishes to come in to encounter the Lord.  And if we don't get it right first go please remember we're doing our best and are willing to learn from constructive criticism but especially that what is being done is being done because your safety is our priority.  And finally keep an eye out here for further announcements in the coming week.
---
---
---
---

The Parish Facebook Page
---