---

Mass Sunday 24th May – Fr Colm O'Doherty St. Mary's Castlefinn,
---
Daily Mass will be said at 10am from Doneyloop
You can take part online
The blessings and protection of the Risen Lord be with you all.

Rev. Ciarán Hegarty CC
Vigil Mass online 6pm Saturday
Sunday Mass 10am
3pm – Chaplet of Divine Mercy
8pm – 54 Day Novena – Today 27th May is Day 3

---
Daily Mass will be said at 11am from Castlefin on YouTube
Fr Oliver Crilly
You can take part online
---

The Parish Facebook Page
Urney and Castlefinn Parish News   
The Seventh Sunday of Easter 24th May 2020

Reflection
The Feast of the Ascension is marked by a great paradox: what we think of immediately is Jesus going away — rising up to heaven, following his resurrection: the first two Glorious Mysteries of the Rosary. And yet, that is not the message that is given to us in the readings for the Mass of the Ascension. Jesus is not leaving us.
The first reading is from the Acts of the Apostles, written by Saint Luke as part two of his Gospel narrative. In Saint Luke's account the Ascension happens while the Apostles are waiting for the coming of the Holy Spirit. They had stayed in Jerusalem as Jesus had asked them to do. He was lifted up while they looked on. Then two men in white said: 'Why are you men from Galilee looking into the sky? — this Jesus who has been taken up from you into heaven will come back.
In the Gospel, from the end of the Gospel of Matthew, the message is even stronger. Jesus says to his Apostles (and to us): 'Know that I am with you always; yes, to the end of time'
The 54th World Day of Social Communications will be celebrated this Sunday 24 May – the Solemnity of the Ascension of the Lord.  Pope Francis has chosen to reflect on the theme of storytelling in his message this year.
On Sunday morning and throughout the day, resources and video clips from around the diocese will be published on the Diocesan website and its social media channels on this storytelling theme.
You can follow them online at:
https://www.derrydiocese.org/
https://www.facebook.com/derrydiocese
https://twitter.com/dioceseofderry
We extend our sympathy to the families of Jim Corry and Martin Mc Laughlin who passed to their eternal reward during the week. May they rest in peace.
Thanks to everyone for their continued donations to the parish via the envelopes or online. It is much appreciated. If anyone requires envelopes please contact Fr Hegarty in Doneyloop Parochial House 9146183
We extend a sincere thanks to all those involved in getting online ceremonies organised from both our Churches / Parochial Houses.
ACCORD:
COVID-19 has changed every aspect of family life – all of our familiar ways of living have had to be adjusted.
You may have had to self-isolate due to the virus; you may be finding it difficult to get space for yourself within the confines of the family home; you may be trying to combine working from home with efforts to provide a home-schooling environment; or it may be that the fear and stress caused by these exceptional circumstances are causing high levels of concern and anxiety.  Whatever impact the spread of COVID-19 has had on the quality of your couple and family relationships – we are here to provide information and support. 
As one of the largest providers of couples and relationships counselling in N. Ireland our experienced, professional, couples and relationships counsellors have made themselves available to listen to your concerns.
We have established a Relationships Support Line 048  9568 0151 offering support to those who are trying to reduce distress within their personal relationships at this time.  We are also using our Facebook page Accord Catholic Marriage Care Service and to provide links to material designed to increase understanding of, and support for handling challenging couples and relationships situations.
COVID-19 Support Line for Older People:
ALONE has launched a national support line and additional supports for older people who have concerns or are facing difficulties relating to the outbreak of COVID-19 (Coronavirus). Professional staff are available to answer queries and give advice and reassurance where necessary. The support line is open seven days a week, 8am – 8pm, by calling 0818 222 024
---
The Blessing of the Graves
It is not possible for our community to come together this year for the annual Blessing of the Graves.
The fact that our cemeteries have remained open throughout the pandemic, has been a great source of consolation.  It is a testimony to our loved ones, a keeping of our tradition of prayer for the Faithful Departed and a unique witness of our parishioners to know that so many are visiting graves in respectful honouring of those who have died.
Parish Prayer Day for Marriage and Family Life
On the 21st of each month, our parish prays for the 24 hours for Marriage & Family Life.  This is part of a Movement of Continuous Prayer for Marriage & Family Life as other parishes and groups take on the prayer for the other days of the month.
To make this prayer continuous, many people in our parish have committed themselves to a specific hour of prayer on in such a way that the whole day and night are covered.
The theme for the month of May is children and young people so we are asking everyone to pray especially for all our young people and their families at this time.
It is also Fr Des Polke's 6th Anniversary on this date and we ask you to remember him in your prayers.
We are working on getting YouTube up and running in both Churches. St Mary's Castlefinn is working since Tuesday and Fr Crilly now says daily Mass at 11am. There are a few technical issues with St Columba's in Doneyloop but hopefully they will be resolved in the next couple of weeks. Fr Hegarty will continue his very popular online radio broadcast of daily Mass at 10am  Chaplet of Divine Mercy at3pm  and the Rosary at 8pm.  We extend a sincere thanks to all those involved in getting online ceremonies organised from both our Churches.
A special message from Bishop Donal McKeown to children in the Diocese of Derry waiting to receive their First Holy Communion, and those awaiting Confirmation that "we are all very sad that it has not been possible YET for those ceremonies to take place… but rest assured, as soon as it is possible they will be celebrated."
A special message to children due to make their first Holy Communion and Confirmation.
The Act of Spiritual Communion – Explained by Bishop Donal McKeown
---
---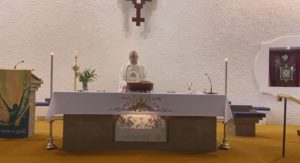 Video of the Mass from St. Mary's Castlefinn,
Sunday 17th May 2020 – Fr Colm O'Doherty
---
New online service started on the 12th May 2020
with sound and vision on YouTube
Fr Oliver Crilly
will celebrate Mass from the parochial house at
St. Mary's Castlefin at a 11am.
click the link below
Online from Urney and Castlefin Parish
---
Daily Mass will be said at 10am from Doneyloop
You can take part online
The blessings and protection of the Risen Lord be with you all.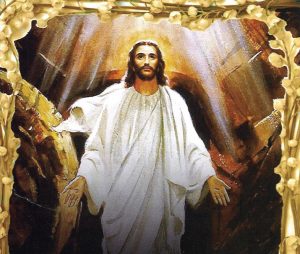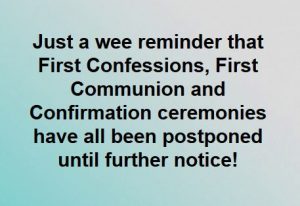 Bulletins 2020
05 January 2020   12 January 2020   19 January 2020
26 January 2020    02 February 2020   09 February 2020
23 February 2020   01 March 2020   8 March 2020
| | |
| --- | --- |
| 41 | 11th May 2020 |
| 42 | 12th May 2020 |
| 43 | 13th May 2020 |
| 44 | 14th May 2020 |
| 45 | 15th May 2020 |
| 46 | 16th May 2020 |
| 47 | 17th May 2020 |
| 48 | 18th May 2020 |
| 49 | 19th May 2020 |
| 50 | 20th May 2020 |
| 51 | 21st May 2020 |
| 52 | 22nd May 2020 |
| 53 | 23rd May 2020 |
| 54 | 24th May 2020 |
St . Columba's, Doneyloop (1868)

CC: Rev. Ciarán Hegarty
Doneyloop,
Castlefin,
Co Donegal, F93 V52C
Tel & Fax: 074 – 9146183

St Mary's, Castlefin (1978)

Rev Oliver Crilly (PIR)
Parochial House
Castlefin,
Co Donegal, F93 K7DN
Tel: 074 – 9146251

The times below are now on hold due to covid 19 pandemic

Masses
Sundays: Vigil 6.00pm. 10am
Holydays: 10.00am, 6.00pm
Weekdays: Mon – Thurs 9.00am;
Fri 7.30pm; Sat 10.00am
​Confessions
Fridays: Before and after 7.30pm Mass
Saturdays: After 10.00am Mass

The times below are now on hold due to covid 19 pandemic

Masses
Sundays: Vigil 7pm. 11am
Holydays: Vigil 6.30pm. 10.00am
Weekdays: Mon, Tues, Wed, Fri 10.00am; Thurs 7.30pm
​Confessions
Saturdays: 12.00noon; after 6.30pm Mass
​​Eucharistic Adoration
Tuesday 10.00am – 8.00pm